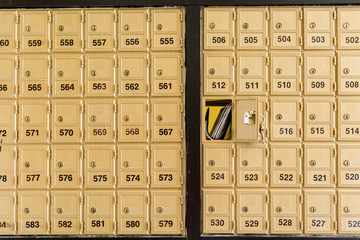 You're busy running your business and personal life, so let us take care of your mail, packages and deliveries with privacy and security for your mail and packages. There's no need for a PO Box when you can visit us today to open a mailbox
What's the Difference between PO Box VS our mailbox service ?
A PO Box gives you a number, not an address but Our mailbox services give you a real street address.
A PO Box doesn't offer additional services, but our mailbox services always come with professional help from our team.
There are many benefits to the convenience of renting a mailbox:
Your mail is safe behind two locks – front door and your mailbox.
Your mailbox is private – we don't disclose to others that you have a mailbox.
We'll accept and secure packages for you – don't risk a package getting stolen from your doorstep; we'll accept packages from UPS, FedEx and other couriers and keep them secure until you arrive…on your time.
Convenience – If you travel often or work from home, you can pick up your mail and packages when it's convenient for you.
Safety, for you and your family – if you have a business and don't want customers showing up at your house, protect your family with a private mailbox
Professional appearance – Unlike a P.O. Box, a mailbox at our center gives you a professional look to new and existing customers with a real street address.
We look forward to providing you safe, secure, private mailbox rental
So try our Private Mailbox Rental Services today. If you have questions, please select from an option below to get in touch with us
What do our customers say?
"It is very secure place, and Very friendly staff"
"Very helpful, friendly, and professional!."